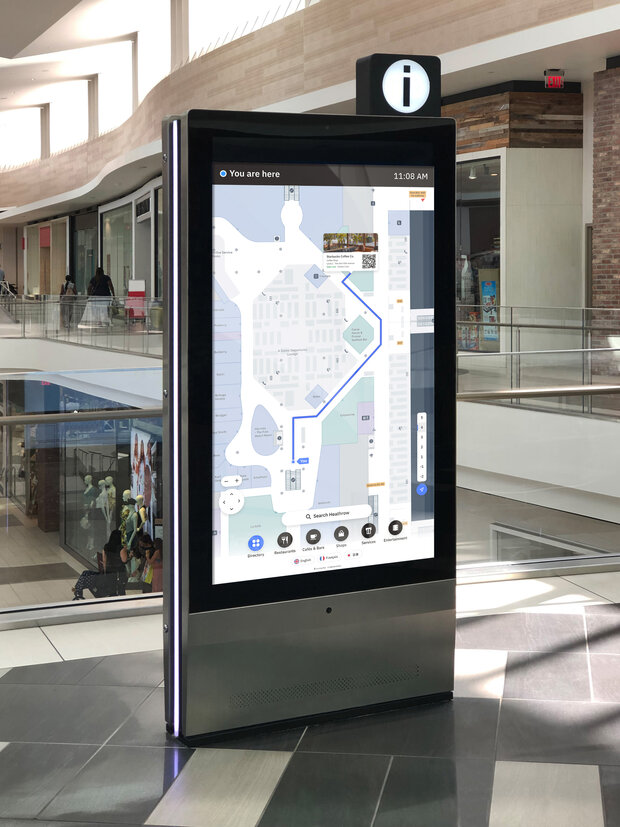 With our state-of-the-art Living Map digital wayfinding map on a kiosk, navigating through complex spaces has never been easier.
Whether you're in a sprawling shopping mall, a bustling airport, or a large hospital, our dynamic and interactive map will guide you seamlessly to your desired destination.
Gone are the days of getting lost or feeling overwhelmed by confusing signage. Our digital wayfinding map provides a user-friendly interface that is intuitive and easy to use. Simply approach the kiosk, and you'll be greeted by a vibrant touchscreen display, inviting you to embark on your journey. You can take the map with you by simply scanning a QR code.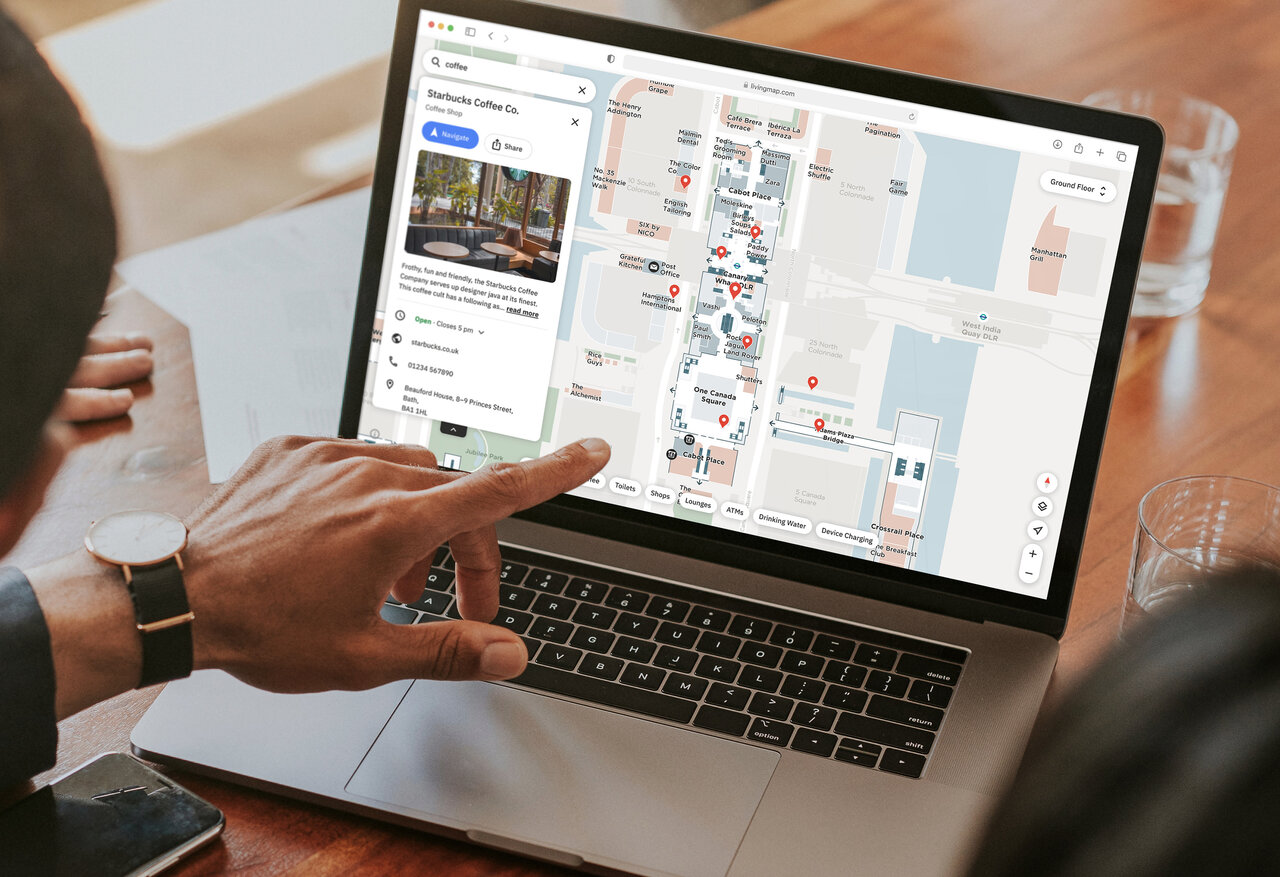 The map is designed to be highly interactive, allowing you to zoom in and out, pan across different areas, and explore various levels of a building. You can search for specific shops, restaurants, restrooms, or any other point of interest (POI), and the map will instantly display the most efficient route to your destination.

But our digital wayfinding map doesn't stop at just providing directions. It goes above and beyond to enhance your experience. Need to grab a bite to eat? The map can show you nearby dining options, complete with ratings and reviews. Looking for a specific stop? The map can display current sales and promotions, ensuring you never miss out on a great deal.

With real-time updates, you can trust that the information displayed on the map is accurate and up-to-date. No more wandering around aimlessly or relying on outdated paper maps. Our digital wayfinding map keeps you informed of any changes, closures, or temporary relocations, ensuring a seamless and stress-free journey.
Accessibility is a top priority for us. Our digital wayfinding map is designed to cater to all users, including those with visual impairments. With built-in accessibility features such as text-to-speech functionality and high-contrast options, everyone can easily access and utilise the map.

Furthermore, our digital wayfinding map is customizable to suit your specific needs. Whether you're a facility manager, event organiser, or retail owner, you can tailor the map to reflect your branding, highlight specific areas of interest, or showcase upcoming events. This flexibility ensures that the map remains relevant and engaging for your visitors.

So, say goodbye to confusion and frustration and embrace the convenience and efficiency of our digital wayfinding map on a kiosk. Let it be your trusted guide, leading you effortlessly through any complex space. Experience the future of wayfinding today!
A renowned shopping destination in London, embarked on a mission to enhance its visitors' experience through a comprehensive digital wayfinding strategy.
Living Map had developed a digital indoor mapping and wayfinding tool for museum visitors.
Star Alliance initiated a discussion with Living Map around indoor positioning and navigation, and how it could add value to member airlines and their connecting journeys.
Experience the power of our mapping, wayfinding, and navigation technology for yourself. See how our software can enhance the customer experience in your facility.