Guiding the future: A recap of our webinar on digital wayfinding for universities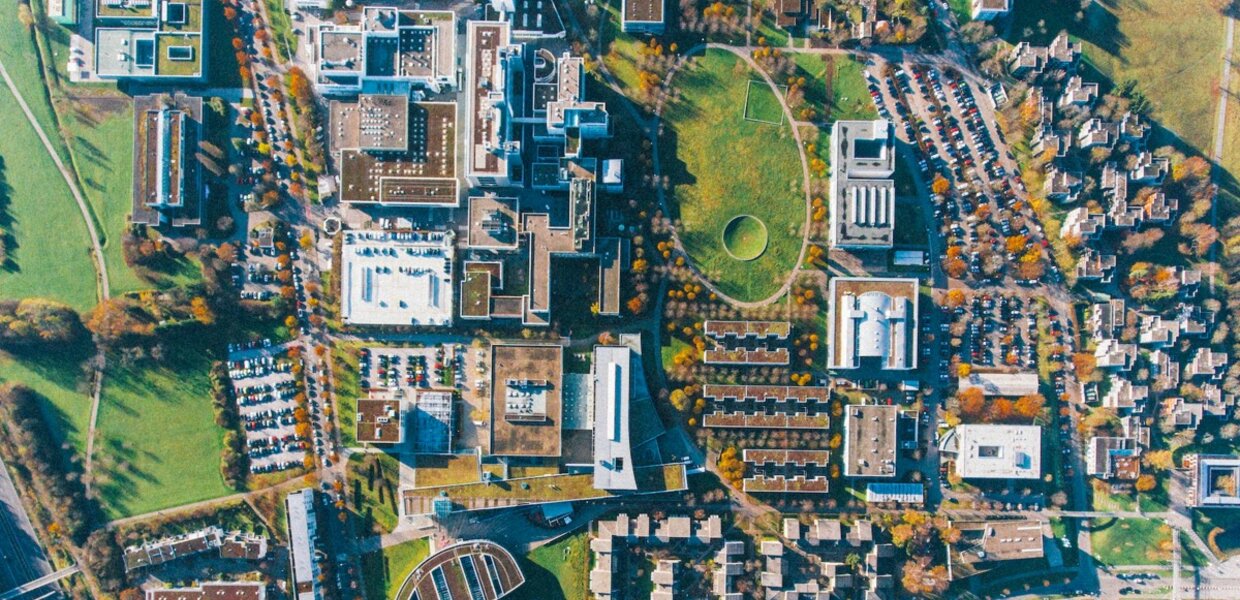 In the ever-evolving landscape of modern universities, efficient navigation has become a crucial aspect of enhancing the student experience. As an industry leader in digital mapping and wayfinding, Living Map recently hosted an engaging and insightful webinar that delved into the challenges faced by universities and how our innovative technology, the Living Map Platform™, can transform the way campuses tackle wayfinding hurdles. Join us as we revisit the key features discussed in this webinar and see our special offer to your university below.
Key features
Enhanced student experience:
Living Map's digital mapping and wayfinding product suite offers students an intuitive and user-friendly platform to navigate the vast campus seamlessly. With interactive maps accessible via mobile apps or web portals, students can quickly find their lecture halls, libraries, labs, cafeterias, student halls, recreational areas, and other essential facilities. This enhanced experience saves time and reduces stress, allowing students to focus on their academics and extracurricular activities.
Accessibility and inclusivity:
The Living Map Platform™ includes features to support students with disabilities. It provides accessible routes for wheelchair users including information on elevator lift locations for those with mobility challenges. By promoting accessibility and inclusivity, universities create a more welcoming and supportive environment for all students.
Data analytics:
The Living Map Platform™ gathers valuable data in My Map Manager on student behaviour and movement across the campus. By analysing this data, universities can identify high-traffic areas, optimise building layouts, and improve facility management. Data-driven insights enable efficient resource allocation, enhancing overall campus efficiency.
Pre-arrival campus experience for new / international students:
Living Map's digital mapping and wayfinding solution serves as an essential tool for new students who might be unfamiliar with the campus layout. Before arriving on campus, students can virtually explore the university, familiarise themselves with key locations, and plan their daily routes. This pre-arrival experience reduces culture shock and helps students adapt quickly to their new environment.
Integration of transport links:
The Living Map Platform™ can incorporate real-time transport information, including bus and train schedules, and campus shuttle services. By providing seamless integration with public transport, students can easily plan their commutes, making the campus and local amenities more accessible.
Sustainability:
Living Map's product suite contributes to a universities sustainability effort by reducing paper waste and promoting eco-friendly practices. With traditional paper maps and brochures being replaced by digital alternatives, the university can significantly minimise its environmental footprint. The platform can also incorporate sustainable transportation options, such as bicycle routes and electric vehicle charging stations, promoting eco-friendly commuting. By encouraging students and staff to use greener transportation methods, the university contributes to reducing carbon emissions and supports sustainable mobility on and around campus.
Accommodation and study location recommendations:
The Living Map Platform™ can integrate with the student housing database, recommending suitable accommodations based on a student's study location and personal preferences. This feature streamlines the process of finding suitable housing options, especially for students coming from distant locations.
Freshers Week organisation:
During Freshers Week, the Living Map Platform™ can assist student unions in organising events, workshops, and orientations. Students can use the map to view event schedules, access event locations, and receive real-time updates. This integration fosters engagement, social interaction, and a sense of belonging among new students.
The implementation of Living Map's digital mapping and wayfinding product suite brings numerous benefits to both students and the university. It enhances the student experience, promotes accessibility and inclusivity, provides valuable data analytics for campus optimisation, helps students acclimate before arrival, encourages sustainable practices, and offers transport and accommodation support. Additionally, it streamlines the organisation of events during critical periods like Freshers Week, leading to a more connected and vibrant campus community. Embracing this technology allows universities to remain at the forefront of innovation, providing students with an exceptional educational journey in a sustainable and student-centric environment.
If you're interested in learning more about the topics covered in our webinar, we invite you to respond to our invitation below:
Invitation to a tailored discussion, demo, and free survey
We would like to offer a unique opportunity for a one-to-one demo and tailored discussion about how Living Map can address your specific wayfinding challenges, followed up with a free survey (Usually £2,500) of your university. We understand that every university is unique, with its own set of complexities and requirements. Our dedicated team is ready to understand your needs and showcase the powerful capabilities of Living Maps wayfinding solution.
To take us up on this offer please fill in the form below with your details. Our team will reach out to you to schedule in a personalised session where we can explore how Living Map can transform the wayfinding experience in your specific environment.
Don't miss out on this opportunity to:
Discuss your unique wayfinding challenges and pain points.
Receive a one-to-one demonstration of Living Map's features and capabilities.
Discover how Living Map can be seamlessly integrated into your university facility.
Gain insights into best practices from our experienced team.
Explore tangible benefits of real-time updates and personalised guidance for students, visitors, and staff.
Book in your free survey (usually £2,500) as to how we can help address your key wayfinding issues.
Together, let's redefine university wayfinding and chart a course toward a brighter future. Share your contact information below to start your journey with Living Map.
We look forward to connecting with you soon!
Book a free* demo and survey for your university facility
Tell us about your wayfinding needs.
Experience the power of our mapping, wayfinding, and navigation technology for yourself.
See how our software can enhance the student experience in your facility.
* Offer is only valid for university facilities.