The reinvention of urban spaces with digital technologies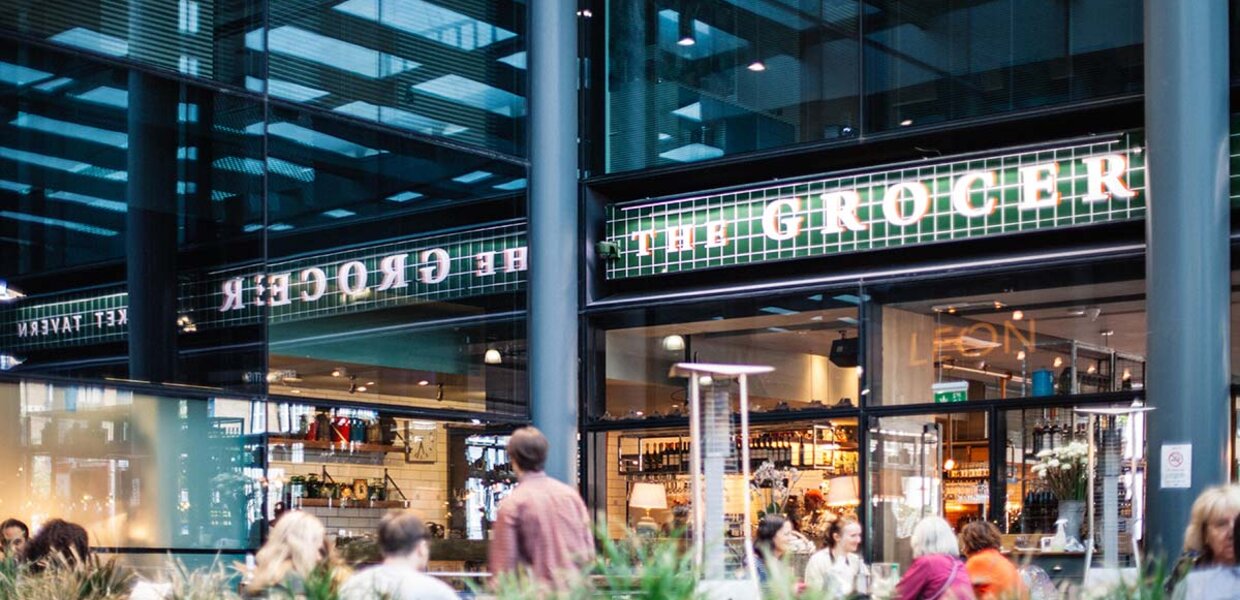 Digitisation is impacting urban spaces, office complexes and other consumer-centric locations in very tangible ways. The rise of digital services has forced high street businesses to adapt their models, showcased by disruptors like Amazon and their introduction of checkout-less stores. And on a larger scale, the ongoing evolution of Smart Cities is transforming how we define mixed-use urban areas, with integrated digital services such as live updates and interactive information boards becoming the norm.
Although the reinvention of shared space experiences using Smart and Responsive technologies is not a new concept, the hope of a post-lockdown society has fast-tracked the necessity of urban transformation. From retail and pedestrianised complexes, to tourism, to leisure facilities, to offices and airport buildings; adopting digital technology solutions can accelerate the safe reopening of public, populated, and urban spaces in a post-covid era.
The role of technology solutions in urban reopening
Our collective perception of urban spaces has changed. A post-covid society is likely to place much more importance on the safety of navigation, crowds, and the functionality of health-conscious travel. Digital activation is the key to opening business doors in a way that accommodates these concerns. It allows operators to reintroduce safety in their designs, and foster public trust in the use of urban environments in order to encourage their re-population.
There are many smart technologies involved in the digitalisation of urban spaces, but some of the most integral solutions in our journey out of lockdown will be those that are user-focused. Digital tools that facilitate live routing, positioning, mapping and location-finding in complex spaces will be integral for successfully adapting public areas to an inevitable need for smarter and safer forms of interaction.
At their core, digital mapping services enable real-time context and navigation of physical spaces in order to optimise people's movements and experiences within complex areas. But the wider ramification of this is matching people's needs to a service in real-time. The use of live information and context-aware navigation on digital maps, responsive location-related push notifications within an app, and dynamic asset tracking all serve to create safer, more efficient use of facilities for operators and customers alike, as well as streamlined navigation.
With minimal man-powered resource, these customisable and dynamic data technologies provide immediate solutions to people's challenges or demands. Covid-19 in particular has emphasised previously innocuous concerns in many areas, such as one-way navigation or capacity monitoring and congestion avoidance.
What urban spaces could look like with digital technology
Densely populated spaces like city centre tourist and business districts, airports, train stations and campuses can be complicated to navigate and explore. This often leads to congestion and frustration, disruption to travel, services and emergency response, and lost profit for businesses, amongst other challenges.
Digital mapping solutions offer more awareness of routes, services, experiences, and support facilities in these areas. The dynamic use of behavioural data, such as live updates about business promotions or location capacity can optimise the user experience and facilitate greater operator efficiency in the context of evolving situations. This combats common historical challenges as well as those that will become a big part of our society's future.
Consumer-facing features
Digital maps aid confident exploration of indoor spaces for consumers. They are given a dynamic view of what's happening and what's on offer around them, integrating fixed and live information about nearby suppliers or conditions. Based on this responsive data, users can make their choices informed by context. They can decide to avoid busy shops in favour of quieter areas or pick a restaurant based on evolving, of-the-moment promotional offers. They can make decisions dynamically based on their plans and needs – such as available time or end destination.
Digital screens, either interactive or broadcast, can be plotted in key locations to present relevant live information controlled and updated by building and district owners/operators. Interaction with these screens can be made available via either direct input (touch) or mobile handoff (QR code or streaming app) in order to serve as an acquisition point where pedestrians can begin to engage digitally with their surroundings.
Operator-facing features
Real-time awareness of the context of physical spaces also provides an opportunity for enhanced incident response. Leveraging dynamic digital location and mapping technologies allows for maintenance, security and health services personnel to be dispatched based on proximity and time to destination, solving problems more quickly.
The anonymous data gathered from app users and IoT devices is also invaluable to service operators. Information about the way people use and flow through densely populated areas can inform the layout and service allocation within large indoor or outdoor spaces. Airports and retail complexes can design routes to reduce congestion and increase safety, that better monetise their services by leveraging busy areas, or that accommodate the natural flow of a crowd.
"Customer behaviors and preferred interactions have changed significantly [due to Covid-19], and while they will continue to shift, the uptick in the use of digital services is here to stay" McKinsey
These location and mapping technologies are foundational to any Smart and Responsive initiatives and are broadly applicable across a wide range of use cases and industries.
Hospitals can benefit from more intuitive navigation for staff, reducing response time to critical codes, as well as efficient tracking of life-saving resources often needed at a moment's notice. Museums can offer live congestion updates and responsive routing to allow for more seamless touring throughout the building, and Smart industrial facilities can implement interactive maps for immediate object location identification and monitoring.
The interventions powered by these technologies can be tailored to a wide range of objectives – to encourage cycling, drive the use of consumer services, or facilitate the efficient allocation of staff in a live incident.
The growth of Smart and Responsive Cities, reliant on these building-block technologies, was already making them ubiquitous. But the need to revaluate complex indoor spaces as a whole has been heightened and the timeline for this transition has been shortened.
At Living Map, we are here to advance the progress of this transition. To help integrate digital mapping, wayfinding and positioning technologies into previously populated areas, and aid people's journey back into public places, safely and with strategic consideration.